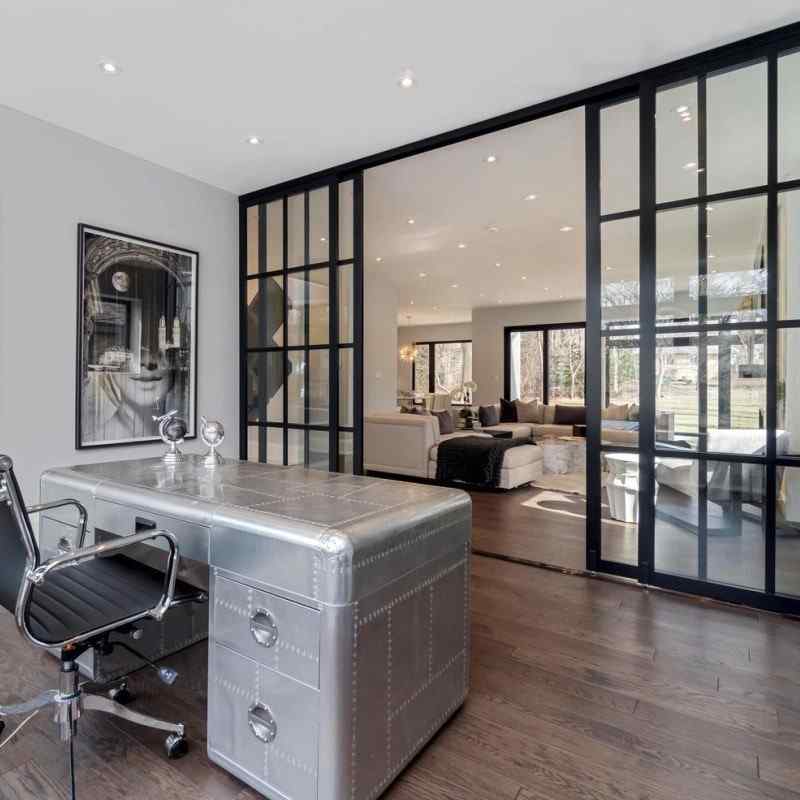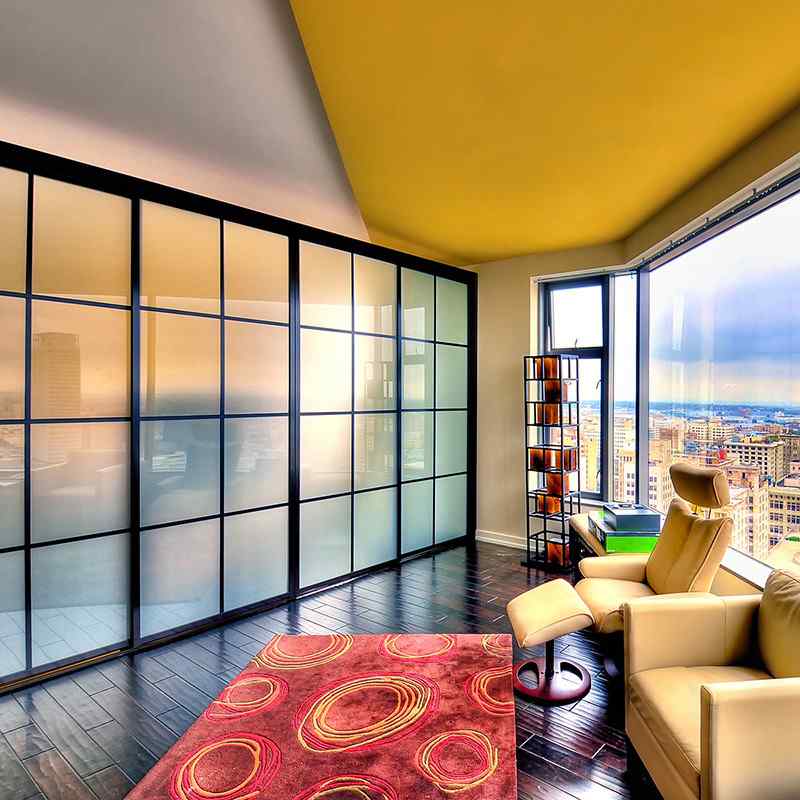 Custom Hospital & Medical Office Room Dividers
Custom glass room dividers in hospitals and medical offices can provide several benefits, such as creating private patient spaces, optimizing the use of available floor space, maintaining infection control, and enhancing the overall environment.
In healthcare settings, medical room dividers are often used to create separate examination rooms, consultation areas, or waiting spaces. You can ensure that the design and installation of hospital room dividers comply with healthcare facility regulations and standards, including those related to infection control, fire safety, and accessibility.
Custom Hospital & Medical Office Room Dividers
Customizing exactly what you are looking for to enhance your space with room dividers allows you to create a unique and inviting dining experience that aligns with the unique needs of your facility.
The Sliding Door Company offers a wide variety of designs, styles, and layouts that can fit the space you are working with. You can work with a great design and install team to ensure the perfect layout and functionality - the end result will work for you! The glass type, frame finish, hardware options, and design elements available will help ensure you create the exact hospital partition you need.
Hospital & Medical Clinic Room Divider Customization Options
Dividers in hospitals and medical clinics are essential for creating functional, private, and organized spaces while maintaining a clean and sterile environment. With our diverse array of medical dividers and panel arrangements, you can craft a hospital divider system that perfectly aligns with your distinct criteria and needs for patients. Our medical office sliding glass doors boast remarkable flexibility, empowering you to effortlessly shift, slide, and unfold them in a multitude of ways. Additionally, glass wall dividers and clinic room dividers from The Sliding Door Company can have custom divider designs, frame finish, glass opacity, and custom locks and handles. You can rest assured that everything you need is safe and secure, protected and private.
Here are several types of room dividers to consider:
FTS System (Flexible Track System) Room Dividers: Utilize this hospital room divider with a panel setup that will operate within a finished niche, providing flexibility in dividers for medical rooms.
Wall Slide FTS: Designed to hug the outer wall, these healthcare partition walls are sliding doors that optimize space utilization while maintaining functionality.
Suspended Sliders: Available in either a finished niche or wall slide version, these hanging medical room dividers offer versatility in adapting to your specific needs for hospital room divider layout.
Bi-Fold Dividers: Instead of sliders, these operable wall systems of folding partition wall dividers fold up, presenting an alternative approach to creating separate areas in your healthcare rooms, corridors, or medical screen area.
Frameless Glass Barn Door: Sliding barn doors on a track can be a great way to temporarily open or close off sections or spaces of your healthcare rooms and areas.
Customized room dividers in hospitals and medical clinics should prioritize patient privacy, infection control, and safety while enhancing the overall functionality and aesthetics of the healthcare space. Working with professionals experienced in healthcare facility design and adhering to relevant regulations is crucial throughout the customization process.
Hospital Room Dividers
Glass room dividers in hospitals offer many benefits, including creating functional and private spaces while maintaining infection control, and can even enhance the overall experience of patients. The materials in our hospital room dividers are easy to client and disinfect, helping you maintain a sterile environment. Frosted glass helps protect confidentiality. Technology and shared equipment can more easily travel across shared spaces via our medical dividers.
Sliding doors for hospital room dividers save floor space while folding or stacking systems provide flexibility in opening and closing sections of the medical office floorplan you have. You can ensure safety with features like tempered or laminated safety glass to prevent breakage, especially in high-traffic areas. We can help you find ADA-compliant options for your healthcare room dividers to accommodate individuals with disabilities.
Healthcare Clinic Room Dividers
Glass room dividers in healthcare clinics offer several advantages, including creating functional spaces, ensuring patient privacy, and maintaining a clean and welcoming environment. Choose between clear glass for a fully transparent look or frosted glass for partial opacity to provide privacy. Glass dividers can be made from smooth, non-porous materials that are easy to clean and disinfect, helping maintain a sterile environment in clinics.
Using glass room dividers in healthcare clinics is a practical and aesthetically pleasing solution that promotes patient privacy, infection control, and flexibility in space utilization. Careful planning, adherence to safety and accessibility standards, and compliance with healthcare regulations are vital when incorporating glass dividers into clinic design.
Medical Office Partitions
Medical office partitions, also known as room dividers or separators, are essential components in healthcare settings to create distinct areas for various purposes while maintaining an organized and sterile environment. Our sliding doors and wall dividers can be used for examination rooms, waiting areas, reception and check-out areas, consulting and counseling spaces, treatment or procedure rooms, isolation and diagnostic areas, and even for storing medical records or in pharmacy and dispensing areas.
It is more important than ever to offer rooms and separate waiting spaces for patients to have privacy, maintain flow, and simplify admin and oversight. Glass medical office partitions are a great solution for so many versatile needs you have in your space. Medical procedures or treatments often require specialized rooms. Partitions can be used to designate these spaces and maintain a sterile and organized environment. Infection control is critical in healthcare settings. Partitions can be used to create isolation areas for patients with contagious diseases, helping prevent the spread of infections.
Some medical offices use partitions in multi-purpose rooms that can be adapted for various functions, such as group therapy sessions or educational seminars. Medical office staff may use partitions to create private spaces for administrative tasks like making phone calls, handling billing inquiries, or discussing sensitive matters with patients.
Using medical office partitions effectively involves careful planning to ensure they are placed where needed to optimize patient care, privacy, and efficiency. These partitions are be designed to meet infection control standards and be easy to clean and maintain in a healthcare environment.
Hospital & Medical Office Room Divider Design & Installation Process
Medical room dividers can greatly enhance the overall experience for your patients and contribute to a better workflow and functionality in your hospital or office. Careful planning, attention to detail during the design and fabrication phases, and professional installation are essential to achieving the desired result.
Designing and installing hospital room dividers involves a systematic process to ensure that the final result meets the functional and aesthetic requirements of the space. The process begins with an initial consultation between the client and the design and installation teams. During this phase, the client's needs, goals, and preferences are discussed. The team assesses the space, considering factors such as the layout, existing design elements, and intended use.
Transforming your hospital, medical office or healthcare rooms with our glass door options has never been easier. Our seamless ordering ensures that you can expect the perfect process. Reach out to us through a quick call or by completing this user-friendly quote form. If you're close to one of our showrooms, we encourage you to visit and see our doors in person. A scheduled appointment can be arranged, or you can simply visit during open hours. View all locations here.
Whether you're working on new construction projects or renovations and remodels, The Sliding Door Company is what's called a "last in" trade project. We come in and work on finished walls and openings. After drywall, paint, and everything else is complete. Our skilled team can install your medical privacy room dividers and doors ensuring every detail is in place. Alternatively, if you have an in-house team, we can offer guidance and clear-cut instructions. Either way, the process is a breeze.
Types of Glass Room Dividers
+

Apartments Room Dividers
+

Glass Panel Room Dividers
+

Japanese Room Dividers
+

Home Room Dividers
+

Office Room Dividers
+

Modern Room Dividers
+

Privacy Room Dividers
+

Studio Room Dividers
+

Kids Room Dividers
+

Living Room Dividers
+

Home Office Dividers
+

Home Gym Dividers