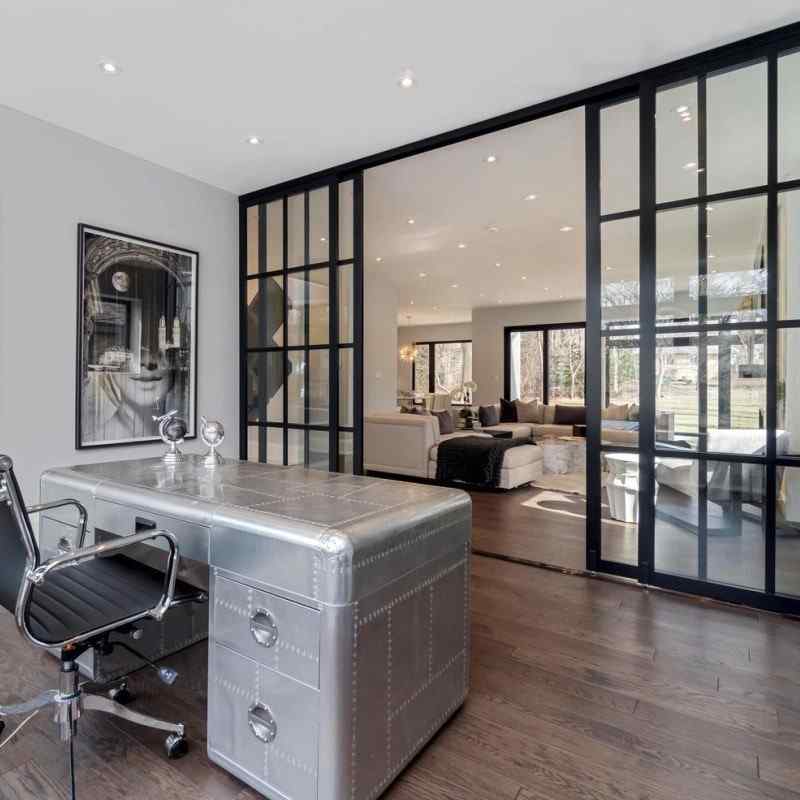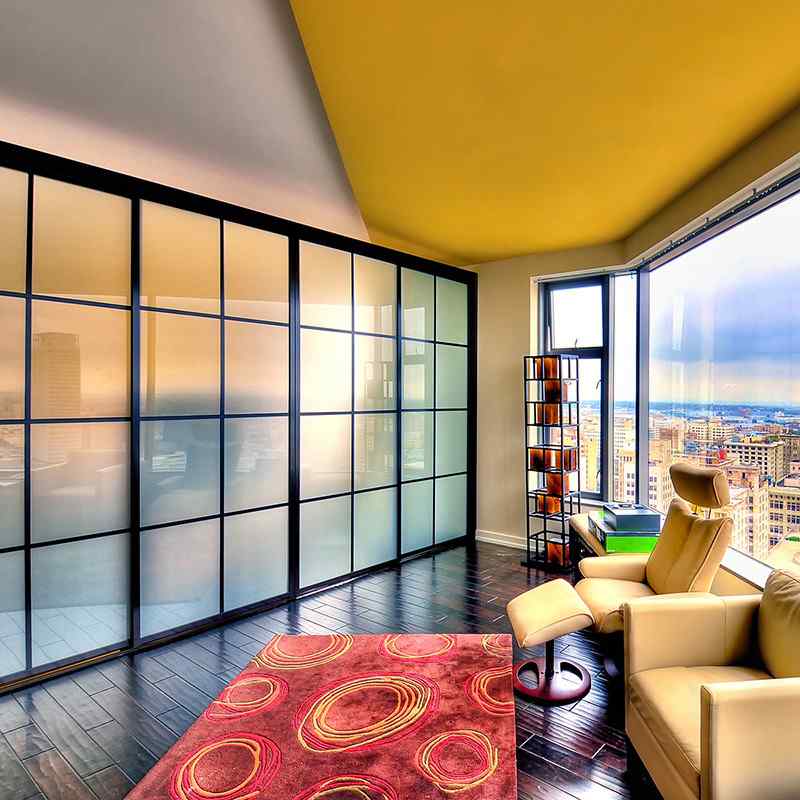 Custom Sliding Glass Room Dividers
Optimize every inch of your floor plan with space-saving glass room dividers. Partition off a section of an existing room or create a closed-off area for privacy without any major construction. Sustainable sliding room dividers add a functional option to open or close a space for privacy while still allowing natural light to flow in. Open top solutions allow occupants to share lighting, heating, and air conditioning, saving energy costs every month.
FTS system (flexible track system) sliders within a finished niche
Wall Slide FTS, sliders, hugs the outside of the wall
Suspended sliders, either inside a finished niche or wall slide version to hug the wall
Bi-Fold – fold up, not sliders
Frameless Glass Barn Door
Sliding Room Divider Features:
Light flows from room to room
Never dislodges from tracks
Easy-glide wheels & a variety of track options
Energy cost saving solutions
3S Smart Shut System™
Safe, sturdy glass, available in 5-7mm, or 10-11mm for higher STC ratings
Patented wheel-to-track locking mechanism
Flex Angle Solutions also available to solve space-planning challenges (for non-90 degree angles)
Sliding Room Partition Customization Options:
Types of Custom Glass Room Dividers
Custom glass room dividers are a versatile and elegant way to separate spaces within a home in the most versatile of ways and in most settings. You have the opportunity to upgrade your home while allowing natural light to flow through and maintain an open and airy atmosphere. These glass dividers can be tailored to suit specific design preferences and functional needs. The Sliding Door Company offers a wide array of options - here are just a few of the possibilities you can explore for your home.
+
Office Room Dividers
+
Modern Room Dividers
+
Home Gym Dividers
+
Living Room Dividers
+
Glass Panel Room Dividers
+
Japanese Room Dividers
+
Privacy Room Dividers
+
Kids Room Dividers
+
Home Office Dividers
+
Apartments Room Dividers
+
Conference Room Dividers
+
Banquet Room Dividers
Modern Glass & Sliding Room Divider FAQs
+
How do you create a separation in a large room?
+
How do you split a room in half without a wall?
+
Are room dividers a good idea?
+
Do room dividers make a room look smaller?
+
How much does it cost to build a room divider?
CUSTOMIZED TO CREATIVITY
Most companies sell what they have in stock. Our products are made to order, custom-tailored to you. We make each order to your taste and preference, designed to your needs. Don't see what you need? Customize your own closet doors, design your dividers and create unique decor. We are here to help your dream become a reality. Tell us what you'd like to see in your space +
10-YEAR WARRANTY
We back every product and every project with a 10-year warranty, every time. We take pride in fabricating each glass door in our own factory with safety and quality in mind. We stand behind our products with pride and confidence, knowing that if a rare challenge does occur, you can count on us. LEARN MORE +
QUICK & EASY INSTALLATION
From our sales team to our design team to our installers we guarantee that you will have a positive experience from start to finish. Our process is as simple as our products are beautiful. THE PROCESS +
10 REASONS TO CHOOSE TSDC
We know you have options when it comes to interior door solutions, so what sets The Sliding Door Company apart? Our reputation, quality and customer service will speak for themselves, but in the meantime here are 10 reasons to choose us over any other option. 10 REASONS +