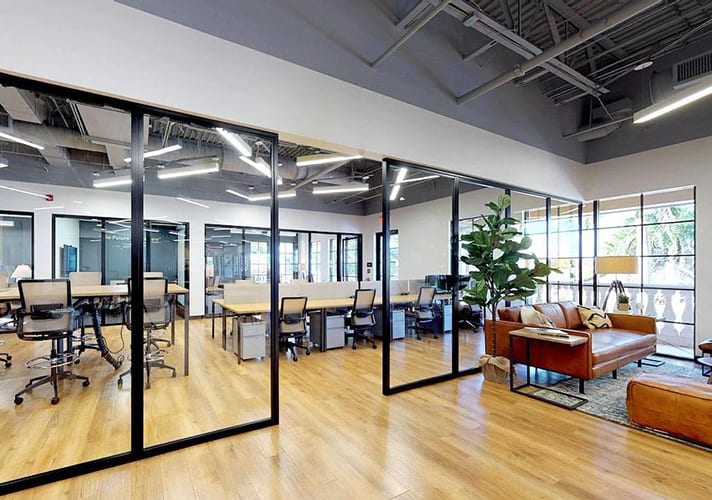 Custom Interior Glass Partition Walls
Our glass partition walls remain in place to maximize space in any home, office, restaurant, hotel, school, or store. Natural light can flow through and one can achieve visual privacy and curtail foot traffic. There are so many options with our custom glass partition walls and fixed glass solutions, which can stand alone or be paired with other products by The Sliding Door Company.
Custom Partition Wall Types:
Vertical glass sidelight next to a swing door
Half-height glass partition (i.e. cubicle separators for visual privacy and safety)
Floor-to-ceiling glass partition wall
Open-air glass partition wall with a horizontal beam across the top
Horizontal glass transom above a swing door and sidelight
Fixed glass panel installed on top of an existing pony wall
Modern Partition Wall Features:
STC rating is 36 for both tempered (5mm thick) and laminated glass (7mm thick)
Can be modular with our flex angle system next to Sliding Doors or Swing Doors, where a typical 90 degree angle is not available.
Interior Glass Partition Wall Customization Options:
Types of Custom Glass Partition Walls
Custom glass partition walls are a versatile design element used to divide interior spaces while maintaining an open and modern feel. These partitions come in various styles and configurations to meet specific aesthetic and functional requirements.
+
Glass Partition Walls for Home & Office
+
Partition Walls for Home & Office
Modern Interior Glass Partition Wall FAQs
+
What are the full glass walls called?
+
Why use glass partition walls?
+
What are the disadvantages of glass partition walls?
+
How much does a glass partition cost?
CUSTOMIZED TO CREATIVITY
Most companies sell what they have in stock. Our products are made to order, custom-tailored to you. We make each order to your taste and preference, designed to your needs. Don't see what you need? Customize your own closet doors, design your dividers and create unique decor. We are here to help your dream become a reality. Tell us what you'd like to see in your space +
10-YEAR WARRANTY
We back every product and every project with a 10-year warranty, every time. We take pride in fabricating each glass door in our own factory with safety and quality in mind. We stand behind our products with pride and confidence, knowing that if a rare challenge does occur, you can count on us. LEARN MORE +
QUICK & EASY INSTALLATION
From our sales team to our design team to our installers we guarantee that you will have a positive experience from start to finish. Our process is as simple as our products are beautiful. THE PROCESS +
10 REASONS TO CHOOSE TSDC
We know you have options when it comes to interior door solutions, so what sets The Sliding Door Company apart? Our reputation, quality and customer service will speak for themselves, but in the meantime here are 10 reasons to choose us over any other option. 10 REASONS +