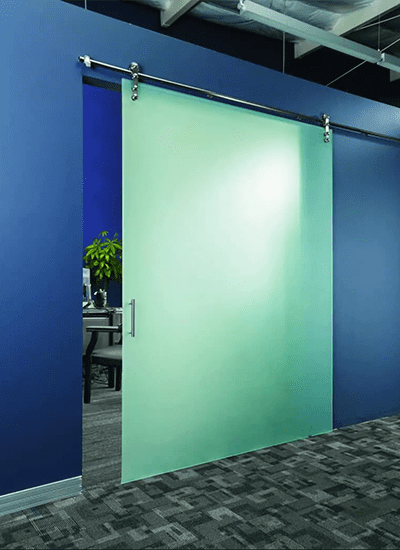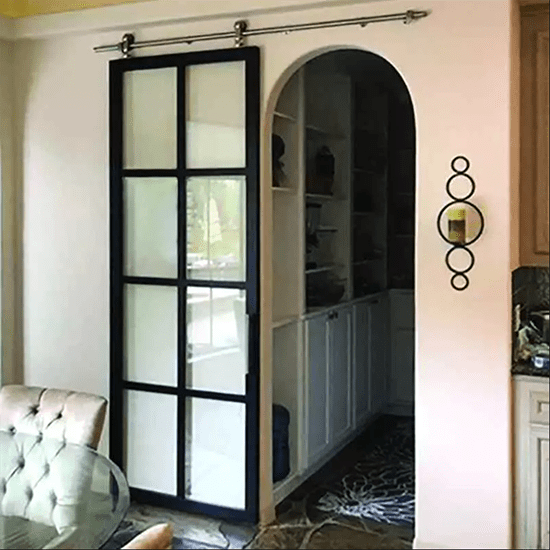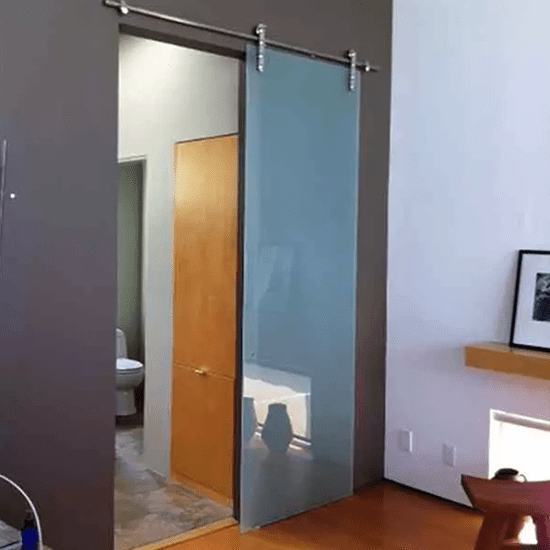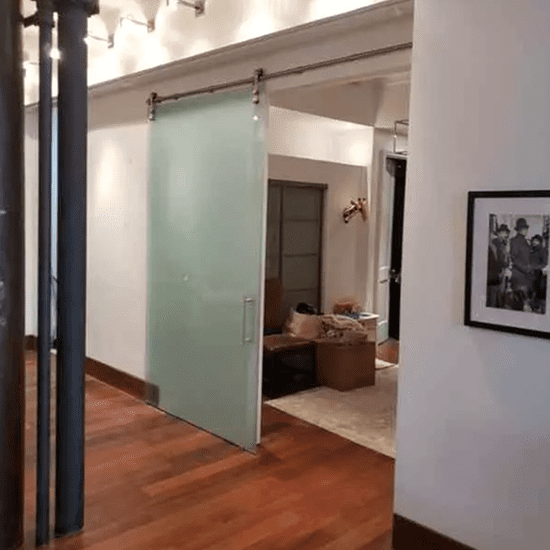 Custom Sliding Glass Barn Doors
As the barn door increases in popularity as a preferred door choice, we have created an extraordinary space-saving glass version of this wonderful standard. Custom sliding glass barn doors provide a way for you to access everything inside of a closet, fully open an entrance to a room or private space, and add flare to any place in the home. Install them as pantry doors in the kitchen, partition off an area of the house for guests, close off a storage room, divide a loft or create a home office.
Interior Sliding Barn Door Types:
Wall Slide systems – hugs the outside of the wall
Suspended Barn Door – hugs the wall, no bottom track
Frameless Glass Barn Door – decorative exposed hardware makes it stunning along with the 10mm thick tempered glass
Closet Barn Doors – accentuate a bedroom closet, replaces old closet doors with modern style
Modern Sliding Barn Door Features:
Framed & Frameless
Slides along wall
5-10 mm thick tempered or laminated glass
Elegant space-dividing solution
Open or close off space as you wish
Easy-glide open and close
Sliding Barn Door Customization Options:
Types of Custom Sliding Glass Barn Doors
We hear from potential clients often asking about barn doors. It is so important that we note when you see inspiration online you may think you want a barn door but your space may be much better suited to another type of glass door. Fear not, our associates can always help you visualize the end result in your space and pick the perfect option for your home. Here are just some of the options that we offer to help you consider what you might prefer.
+
Modern Glass Barn Doors
+
Custom Closet Barn Doors
+
Frameless Barn Doors
+
Sliding Glass Barn Doors
+
Frosted Glass Barn Doors for Offices
+
Pantry Barn Doors
Custom Glass Sliding Barn Door FAQs
+
What types of barn door are available?
+
What are some uses for an interior glass barn doors?
+
Are interior glass barn doors safe?
+
Are Barn Doors ADA compliant?
+
Can I choose the finish or style of my barn door?
+
Can I choose the hardware for my barn door?
+
What kind of warranty is included?
+
Do I need structural support?
+
What is the average turn-around time?
+
Do you ship barn doors?
+
Can I pick up and install your sliding doors?
+
Can I choose from different handles?
+
How much do interior barn doors cost?
+
Do you install barn doors?
CUSTOMIZED TO CREATIVITY
Most companies sell what they have in stock. Our products are made to order, custom-tailored to you. We make each order to your taste and preference, designed to your needs. Don't see what you need? Customize your own closet doors, design your dividers and create unique decor. We are here to help your dream become a reality. Tell us what you'd like to see in your space +
10-YEAR WARRANTY
We back every product and every project with a 10-year warranty, every time. We take pride in fabricating each glass door in our own factory with safety and quality in mind. We stand behind our products with pride and confidence, knowing that if a rare challenge does occur, you can count on us. LEARN MORE +
QUICK & EASY INSTALLATION
From our sales team to our design team to our installers we guarantee that you will have a positive experience from start to finish. Our process is as simple as our products are beautiful. THE PROCESS +
10 REASONS TO CHOOSE TSDC
We know you have options when it comes to interior door solutions, so what sets The Sliding Door Company apart? Our reputation, quality and customer service will speak for themselves, but in the meantime here are 10 reasons to choose us over any other option. 10 REASONS +