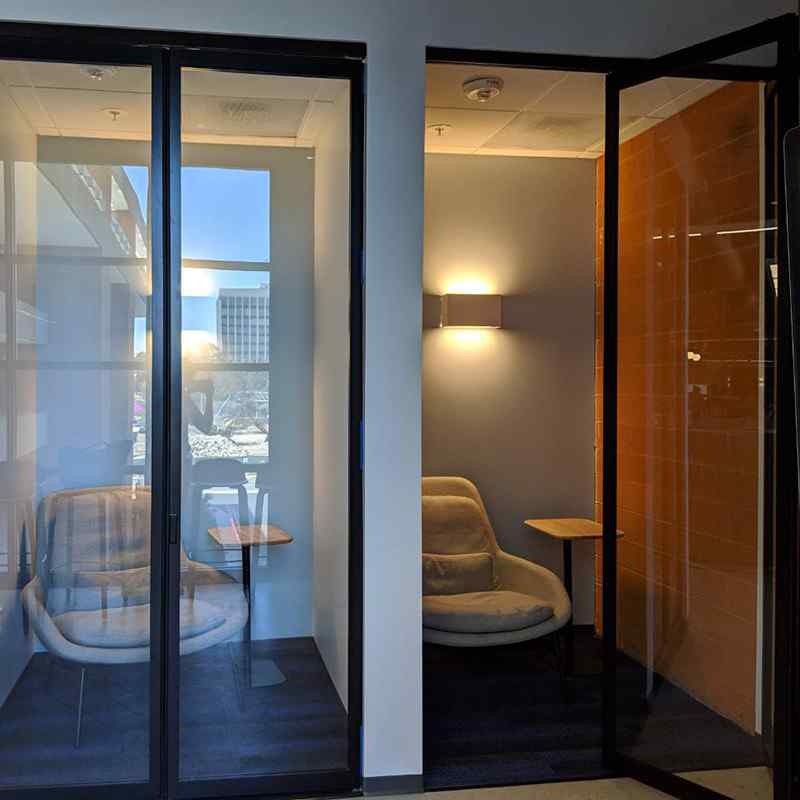 Custom Interior Glass Bifold Doors
Our Custom Interior Glass Bifold Doors offer a stunning, brilliant solution to any work space, home or children's play room. With its neat folding design that allows the doors to fold towards the edge of the frame, this optimizes the space and is suitable for narrow closets or 'phone booth' type applications as well as larger spaces to allow access through almost the entire width of the opening. The unique anti-finger pinch system sets this Glass Bifold Door System apart from any other in the industry.
Modern Bi-fold Door Features:
Modern bi-fold doors have evolved to offer a range of features that make them a popular choice for contemporary architecture and interior design. Modern glass bi-fold doors offer a combination of functionality, aesthetics, and performance that make them a versatile choice for residential and commercial spaces. Their ability to create large, open living areas while maintaining energy efficiency and security makes them a popular option that has come a long way. Our tracks, wheels and overall design make these doors much improved over their earlier counterparts.
Glass Bifold Door & Wall System Customization Options:
By mixing your custom dimensions and house style with our countless variety of panels, frame finishes, glass opacity and configurations, you can get the unique look and function your space demands.
Types of Custom Glass Bifold Doors
+

Left Pull Bi-fold Door
+

Right Pull Bi-fold Door
+

Double Pull Bi-fold Door
Modern Glass Bifold Door FAQs
+

What is the purpose of a Bi-fold Door?
+

Are Bi-fold Doors safe?
+

What are the sizes of Bi-fold Doors?
+

Are Bi-fold Doors in style?
+

Will a Bi-fold Door add value to my home?
+

Do Bi-fold Doors break easily?
+

When should you use a Bi-fold Door?
+

Where should I install Bi-fold Doors?
+

How do I install Bi-fold Doors?
+

How can I customize my Bi-fold Doors?
CUSTOMIZED TO CREATIVITY
Most companies sell what they have in stock. Our products are made to order, custom-tailored to you. We make each order to your taste and preference, designed to your needs. Don't see what you need? Customize your own closet doors, design your dividers and create unique decor. We are here to help your dream become a reality. Tell us what you'd like to see in your space +
10-YEAR WARRANTY
We back every product and every project with a 10-year warranty, every time. We take pride in fabricating each glass door in our own factory with safety and quality in mind. We stand behind our products with pride and confidence, knowing that if a rare challenge does occur, you can count on us. LEARN MORE +
QUICK & EASY INSTALLATION
From our sales team to our design team to our installers we guarantee that you will have a positive experience from start to finish. Our process is as simple as our products are beautiful. THE PROCESS +
10 REASONS TO CHOOSE TSDC
We know you have options when it comes to interior door solutions, so what sets The Sliding Door Company apart? Our reputation, quality and customer service will speak for themselves, but in the meantime here are 10 reasons to choose us over any other option. 10 REASONS +